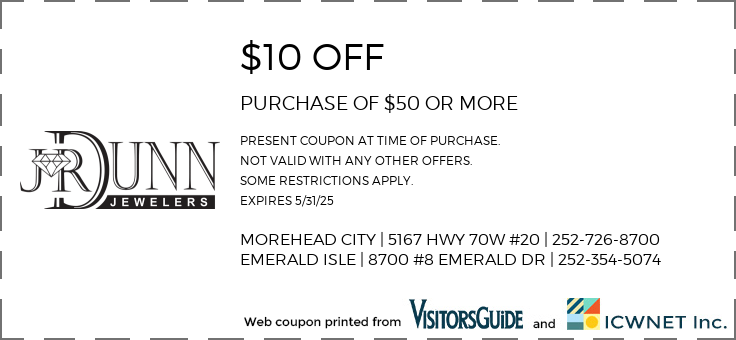 print
Featuring two locations along the Crystal Coast, and serving the region for more than 30 years, J R Dunn Jewelers is a time-tested resource for a wealth of special occasion gifts, and "just because" treasures for vacationers and Carteret County locals alike. With a fine selection of everything from wedding and engagement rings to timepieces. shoppers can find just the delicate piece of jewelry they are looking for with a visit to this exquisite and elegant shop.
J R Dunn Jewelers has two locations to cater to visitors throughout the Crystal Coast area. One shop is located in the slightly inland and populated town of Morehead City, while the other is tucked into a shopping plaza in the heart of Emerald Isle. As a result of these two distinct locations, visitors will have an easy time popping in and exploring the wide array of sparkling treasures this established jeweler has to offer. With a unique assortment of coastal-themed pieces to serve as an invaluable souvenir, as well as an assortment of gifts and engagement rings that will delight any recipient, J R Dunn Jewelers is an all-encompassing destination for everything that sparkles and glitters under the sun.
Get dazzled by the finest collections of diamonds, gemstones, pearls, and watches on the Crystal Coast!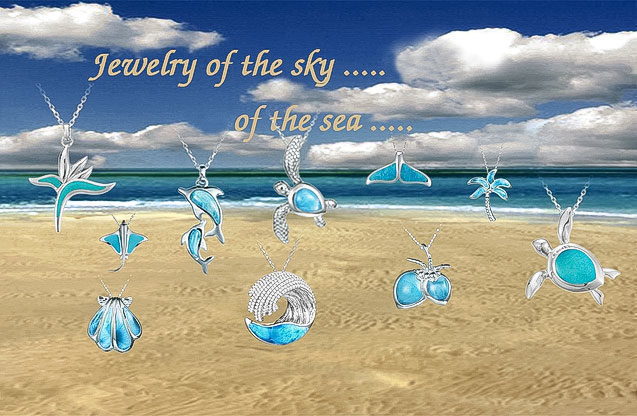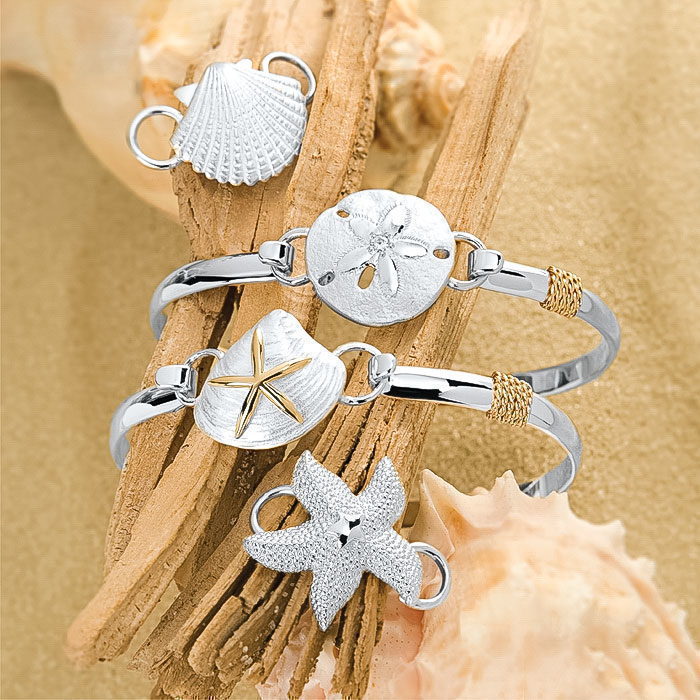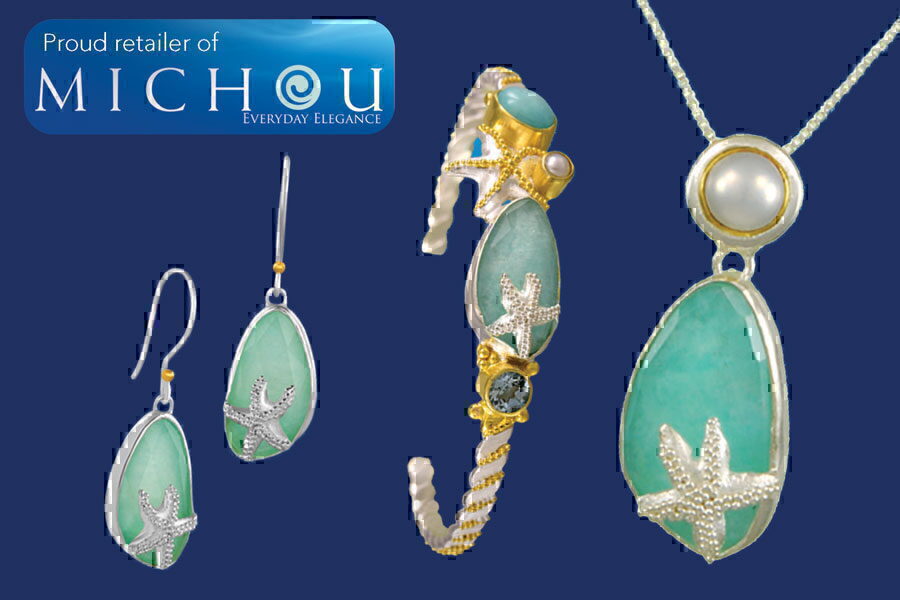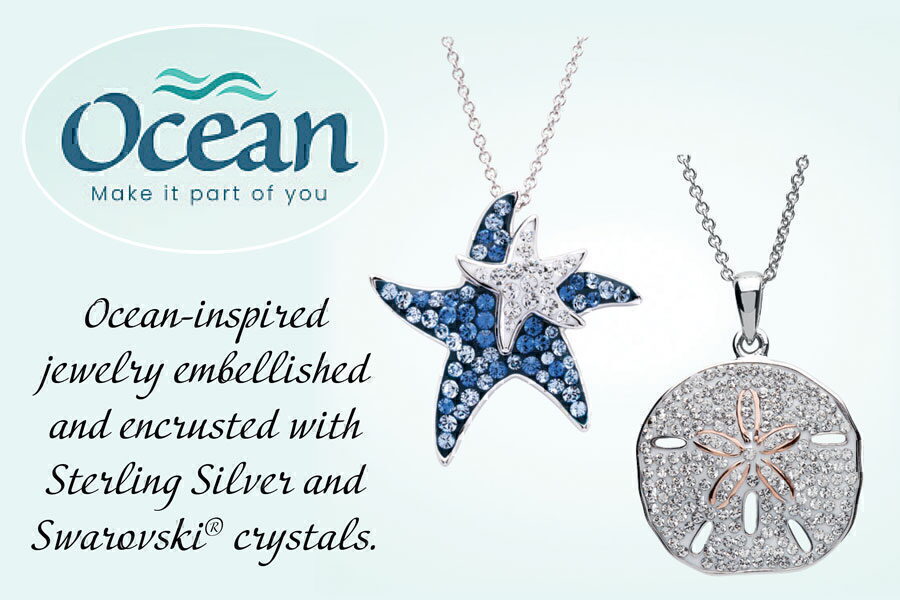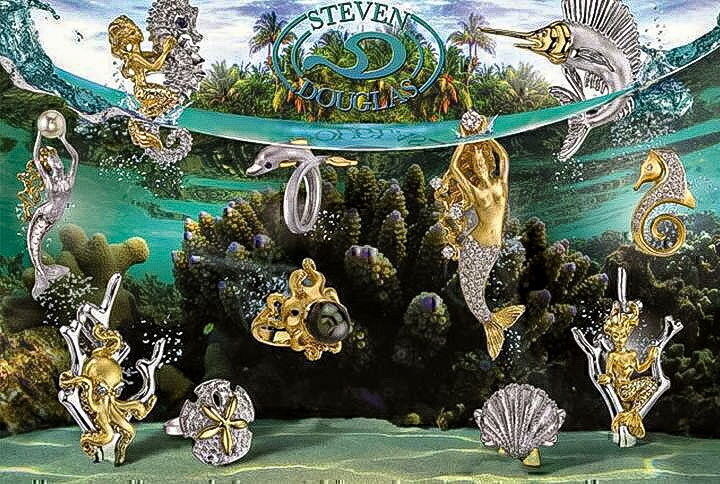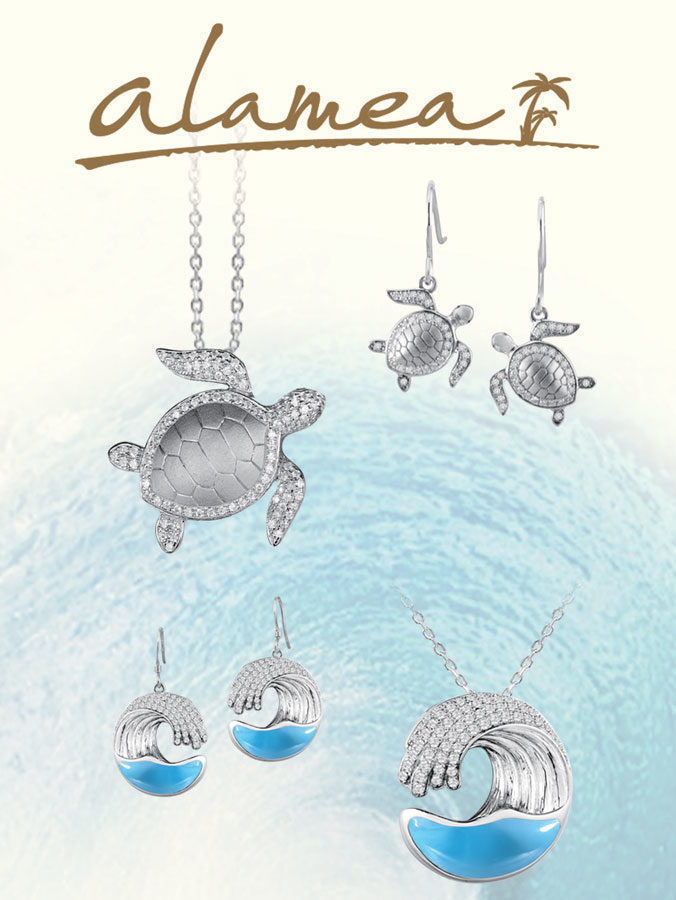 FEATURED PROFILE
A Fine Find
J.R. Dunn Jewelers Specializes in Fine Jewelry that Provides Memorable Souvenirs
Husband and wife, J.R. and Bonnie Dunn, have established a longtime connection with the locals and visitors of the Crystal Coast. Bonnie, a native of Morehead City with strong family ties to the area, returned home to Carteret County in 1985 when her husband, J.R., got a job with a local company.
When that company closed, the couple shifted and bought a local jewelry store in 1988. After a name change and new location in Cypress Bay Plaza in 1989, J.R. Dunn Jewelers officially made itself at home in Morehead City, proudly serving the visiting and local community.
J.R. Dunn is well-known throughout the Crystal Coast for its fine jewelry collection of diamonds, gemstones, pearls, watches and sterling silver. In 1996, the jewelry store expanded its presence in the area to a second location in Emerald Isle within the Emerald Plantation Shopping Center. "Our favorite thing about living and working here is the small-town atmosphere, the friendliness and hospitality of those who also live here," says the Dunns. "And let's certainly not forget the climate and great seafood."
Just as the North Carolina coast is known for its fresh-caught seafood, J.R. Dunn Jewelers is known for its variety of dazzling pieces and eye-catching designs for any occasion. Among the countless unique jewelry lines that J.R. Dunn sells, the business owners say that some of the most popular products are their exclusive Emerald Isle and Atlantic Beach destination bracelets, as well as the Cape Lookout bracelets.
"Visitors love it because they can 'take home' a reminder of their fun-filled, sunny days on the Crystal Coast!" they explain.
These bracelets are designed especially for J.R. Dunn and can only be found at the jeweler's two locations. Available in 14k yellow gold, 14k white gold or sterling silver, these bracelets showcase an "EI" and "AB" for Emerald Isle and Atlantic Beach, respectively, creating a timeless keepsake to remember your visit here.
After more than 40 years of marriage and over 30 years of business together, the Dunns say that they still enjoy getting to know their customers the most.
"Establishing a relationship with them and helping customers find a gift for someone they know and love," they say is the best part of owning their business. "Many of our out-of-town visitors stop by every time they come here to visit just to say 'hello' or to 'treat themselves' to a new piece of jewelry."
–Arielle Patterson